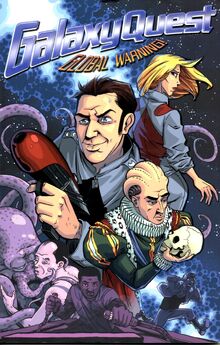 Galaxy Quest: Global Warning is a graphic novel released in 2009, initially it was released in 2008 as a 5 issue mini-series of the same name. It was written by Scott Lobdell and illustrated by Ilias Kyriazis, and is a continuation of the film.
The series/graphic novel, is a continuation of the story of the film, it is devided into five issues each with three chapters. The story takes place before the launch of the new series Galaxy Quest: The Journey Continues, when a world threatening crisis once again requires the cast of Galaxy to once again rise to the occassion.
Cover
Cover Artist
Issue #/Title
Chapters #
Writer
Artist
Release Date
Summary
Issue #1
Chapter One: Destiny be Mine!
Chapter Two: And the Winner is...
Chapter Three: U.F. Friends or Foes?
Issue #2
Chapter Four: When Titans Clash
Chapter Five: Reunited
Chapter Six: Tic...Tic...Tic...Tic...


Issue #3
Chapter Seven: My Homeworld Away from Home...
Chapter Eight: The Mists of Delos 57
Chapter Nine: The Last Leg!
Issue #4
Chapter Ten: Be Careful What You Wish For...
Chapter Eleven: Will Act For Food
Chapter Twelve: Alas, Poor Jason!
Issue #5
Chapter Thirteen: Inherit a Cosmic Wind...
Chapter Fourteen: My Friend, My Self
Epilogue: Once Moore With Feeling
Community content is available under
CC-BY-SA
unless otherwise noted.