Welcome to the Galaxy Quest Wiki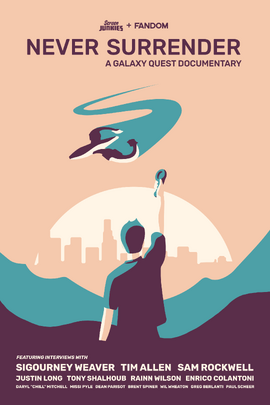 Galaxy Quest is a 1999 American science fiction comedy film directed by Dean Parisot and written by David Howard and Robert Gordon.
The film follows the cast of a defunct cult space television series called Galaxy Quest, who are scraping a living through re-runs and sci-fi convention appearances. Suddenly they are beamed aboard a spacecraft by real aliens who believe the series to be an accurate historical documentary. The aliens seek help from the washed-up celebrities in their quest to overcome the oppressive regime in their solar system and save both Earth and the alien race from a reptilian warlord.
---
In honor of the milestone 20th anniversary of Galaxy Quest, Fandom has produced a new feature-length documentary, which explores the legacy of Galaxy Quest and the hard work it took to create the film. It features interviews with key cast and crew members, as well as notable sci-fi actors and creators, sharing their thoughts about Galaxy Quest and its lasting cultural impact.
Never Surrender: A Galaxy Quest Documentary premiered on October 5, 2019 at New York Comic Con and it had a limited theatrical screening on November 26, 2019.
Galaxy Quest Wiki
We're an encyclopedia run and maintained by people just like you! Created by fans, for fans, the Galaxy Quest Wiki is dedicated to building a comprehensive and informative resource about all things Galaxy Quest. By Grabthar's hammer, by the Sons of Warvan, sign up for a free account and start editing today!