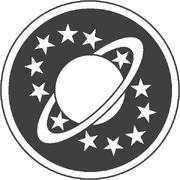 The National Space Exploration Administration (NSEA) is the fictional federation that the crew of the Protector and the Protector II "work" for.
The NSEA emblem is a ringed planet surrounded by twelve stars.
Uniforms
[
]
Uniform colors and rank:
The Thermian race made a version of the crew uniform, made from an unknown chrome-like material. All Thermians, such as Mathesar, wear this.